5 new colleagues & 10 candles for Transfer!
Transfer has been gifted five new colleagues for its 10th anniversary, over the course of the past two years! Young and driven professionals who are ready to conquer the world of media are the perfect addition to the 10-year existence of Transfer. Full of new insights and motivation Christina Gevers, Evi Van Hulle, Jesse Janssen, Marie Torfs and Thibault Mortier start their adventure at Transfer.
Besides Mark Pauwels, who joined the Sales Team of Stefan Hougaerts (Sales Manager) in February 2022 (read all about it here), Transfer has five new colleagues! Three departments were reinforced by young talent.
Christina Gevers joined the Operations Team as an Office Manager since the end of 2020, under Eline Hereygers (Operations Manager). Transfer needed serious reinforcement during the first lockdown, so Christina came in at the right time. Since then, Christina has been an indispensable part of Transfer, keeping everything running at the Antwerp office.
Jesse Janssen started at the end of 2021 as Marketing & Communication Assistant in Julie Jeunen's (Marketing Manager) Marketing Team. With experience in Disneyland Paris, Jesse is the perfect addition to the Marketing Team.
Timo Haesaerts (Planning Manager) welcomed three new Media & TV Planners this year. Evi Van Hulle starts at Transfer with a Communication Sciences degree. Like the true bon vivant she is, Evi feels right at home in this challenging media world, in the heart of Antwerp."
Marie Torfs was born & raised in Lier and knows the small town like the back of her hand. Marie could immediately identify with the Transfer identity "The atmosphere, work life balance, colleagues,… I immediately had a good feeling about it", she said about her job interview.
Thibault Mortier's favorite movie is Reservoir Dogs by Quentin Tarantino, and with his Media Studies masters, the Media & TV Planner position is right up his alley. Working quickly, yet efficiently can sometimes be a challenge, but Thibault is totally up for the challenge.
The position of Media & TV Planner requires a lot of attention and precision work. With Transfer's ever-growing portfolio, Evi, Marie and Thibault are the perfect addition to the Planning team.
Meet the best addition to our team: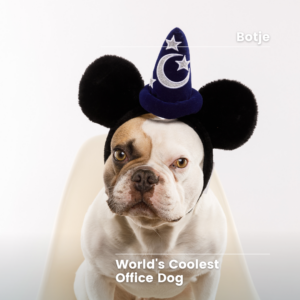 Meet Botje aka The Coolest Office Dog in the World! Christina is Botje's proud dog mom and brings him to the office every time she can. Laying down in the sun and walking around in the city park are his favorite hobbies. Botje must be the best addition to our team for all the love & joy he brings at the House of Thematics.
If you are JUMPING OF JOY to say hi to our new colleagues or Botje, don't be shy & come by our office in Antwerp!
Or maybe we'll see you at our party on the 19th of May?